A state of emergency
remains in effect for all of Georgia due to impacts from a winter storm on Tuesday through this morning, Thurs., Jan. 30, 2014.
The Civil Emergency Message will remain in effect until noon today and primarily pertains to the Atlanta metro counties. Those counties include
Fulton, Dekalb, Clayton, Cobb, Gwinnett, Douglas, Rockdale, Fayette, Henry
and
Cherokee
.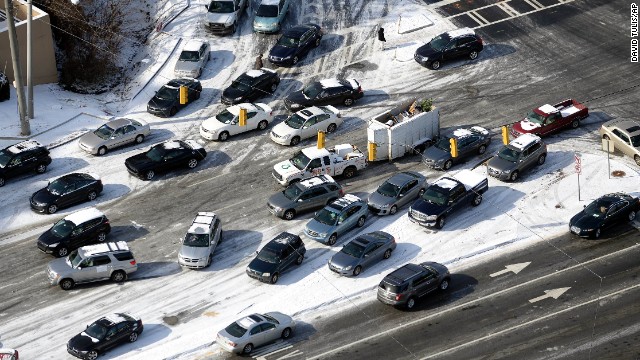 Abandoned vehicles still litter highways and Interstates
in the metro Atlanta region.
Solid sheets of compacted ice and snow continue on many sections of roadways in the Atlanta metro area. This continues to cause extremely hazardous road conditions with some areas still impassable. Roads will be extremely treacherous through Thursday morning or until the ice melts.
The Georgia Emergency Management Agency requests that travel be limited to emergencies only for your safety, and for the safety of emergency officials and Georgia Department of Transportation employees that continue to respond to the dangerous impacts of the winter storm.
What is a Civil Emergency Message?
A message issued by the National Weather Service in coordination with Federal, state or local government to warn the general public of a non-weather related time-critical emergency which threatens life or property, e.g. nuclear accident, toxic chemical spill, etc. The CEM is a higher priority message than the Local Area Emergency (LAE), but the hazard is less specific than the Civil Danger Warning (CDW) Source:
weather.gov
Get the Cell Out - Atlanta hopes everyone is safe. Drive with care and stay home if possible. Schools in DeKalb County are not in session today. A message about possible delays or closures for tomorrow will be posted on the
school system website.